Secrets for Effective SEO Strategy for Startups 2019. Photo Credit by Pixabay.com
If you have recently launched a new startup or your agency, let me take a call and introduce you to your new friend that is termed as SEO. You have often heard the word SEO when it comes to digital marketing or online marketing. The goal of Search Engine Optimization is to catch your website on the top spot in the search engines result from pages whenever someone searches for your keywords or your brand. Google has more than 200+ algorithms for ranking websites. 
Related: History of Google Algorithm Updates Changes.
For example, if you are running a digital marketing agency and you want to rank your website at the top of search engine result pages whenever someone enters a keyword based on your industry like "digital marketing services" into the search bar. This can only be attained through proper SEO.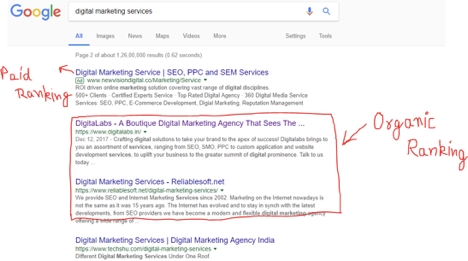 Getting ranked on the first page of Google not only catch many eyeballs and traffic to your website also leads to convert maximum potential customers without paying a penny to paid results like shown in the figure above.
The time has passed and with the implementation of new algorithms, simply writing a good website content isn't enough to secure top search engine results alone. Today you are not only competing with millions of websites online in your niches also you are in the eye of google crawlers which defines which sites should be ranked in the top positions according to their algorithms.

Here are the top secrets for effective SEO strategies for startups you must follow in 2020:
If you are brand new to the term SEO you can start by applying these simple tweaks in your website. SEO is a continuous process and you will feel comfy understanding the theory behind it. Leveraging this practices on your startup on a daily basis increase not only your brand awareness also boost search engine results in visibility and your ranking.
Related: Want to build your own brand on Social Media? Here are the best tips…
Rule 1: Make sure your site is getting indexed by Google webmasters.
If you are writing awesome contents also implementing SEO but still Google bots and spiders isn't indexing your website on search engine results pages then it's of no use. Google search engine relies on their bots and spiders, they are the automated programs by the Google which keeps moving s websites to websites and crawl their internal and external websites links, copies of information, collect databases before indexing.
Bots and spiders are also referred to as crawlers because they crawl website links automatically. Most of the time newbies fail in making a proper path for crawlers and in result their bots are unable to fully explore your website. This occurs due to bugs like broken links or hidden contacts, redirect 404, 301 errors or any other crawler issues. This contradicts search engine to display website links naturally on search pages. 
To avoid any crawling issues you need to first setup you're Google Webmasters. Put your site on the webmaster and regularly keep an eye on "crawling errors" batch, if it shows any issues you can easily fix that issue permanently. All this help crawlers to smoothly fetch and synchronize your site data and index every single detail in result pages.
Related: The Ultimate Guide to feature your Product on Google.
Rule 2: Focus on both industry and long tail keywords
Now, you've got some idea about SEO, and it's time to take one level up. Every website have contents and it will be a total waste if it is not containing any specific keywords, google bots understand the content in form of keywords used. When you are writing any content or articles for your startup, the first duty to insert organic keyword to every possible place such as in "title tag, the headline in the meta description, in Body of your content and in SEO title as well". If you are using WordPress, the most effective plugin that takes care of keywords and titles are "Yoast SEO' it will simplify your tasks within seconds.
It is always difficult to rank highly competitive keywords in Google result pages due to high competition. So it is advised by SEO experts to use long tail keywords for your agency or startups. For example- Instead of implementing "digital marketing services" in your content. You can shift from niches to micro niches by using keywords like "best is the marketing services in Noida" or "Top digital marketing agency in India". This will not only eliminate most of your competition also springs you to the most potential customers to your website. It is often guided to use long tail keywords in the website to rank organically in a short period of time.
Rule 3: Choose keywords based on Search intent and other metrics.
Long tail keywords are necessary for any started but it is also important to get these two things done before you're using any keyword.
Search volume- With AdWords keyword planner tool you can easily hunt for the maximum search volume for a particular keyword in a month, for example, the higher number of traffic getting on any keyword gives you highest potential traffic to your website and expand ranking as well in natural search engine results.
Keyword competition- you can choose between the most highly competitive keywords to low competitive keywords as well. It is recommended to choose highly searched keywords with low competition so that it becomes an easy rank for that particular keyword. This is a win to win situation for any sites.
Rule 4: Building backlinks from Day one- Forth SEO strategy for startups 
Backlinks are a very crucial factor in term of rankings and considered as a top priority for maximum startups. It is necessary to start building inbound links for sites as quickly as possible. More the number of quality links Backlinks plays a big role in overall natural search performance. Below are some of the link building techniques you can use to get backlinks more rapidly.
By doing a guest post on authority websites related to your niches. You can do the guest post and create powerful backlinks to your website. Backlinks are like a vote for your site which defines your trust and credibility.
You can also contact review sites to review your product in your industry gets a quality backlink from their website.
You can send a press release to various media publications when your startup gains some credibility.
By adding your website to relevant search engine business directories and classified websites.
You can share your articles or blogs on major social media sites like Twitter, Facebook Stumble Upon, Pinterest, YouTube, Reddit, Pocket and more.
Rule 5: Last but not the least "content"
As we all know that the "Content is King" for any of the website or startups. The more we connect with our customers more we get engagements and conversions. The best thing we can do to optimize the website is by publishing awesome contents company blog pages or landing pages. There are several advantages of having a well written and researched contents:
When you publish any awesome contents, others in the industry will also like to link back to your website naturally minimizing the time of manual link building you need to do.
Contents you have in your website will more likely to rank for more number of keywords naturally, this can also lead to generate huge traffic to your targeted keywords in very less time.
If you are content is good and can be readable by 5-year-old kids as well, it will definitely be shared in a viral fashion.

 

If we are talking about trending posts or blogs, controversial articles engage most readers on a blog post.
Articles which are between 2000 to 2500 words and comprises ultimate information's do well on search engines rankings.
SEO is not quick apply and get results process, it takes some time naturally it will help your startups to generate comprehensive leads organically for long-term in comparison to any paid traffic. By following to these 5 secrets for effective SEO strategy for Startups in 2019 you can not only acquire more potential clients you will also skyrocket your brand name through natural search performance.