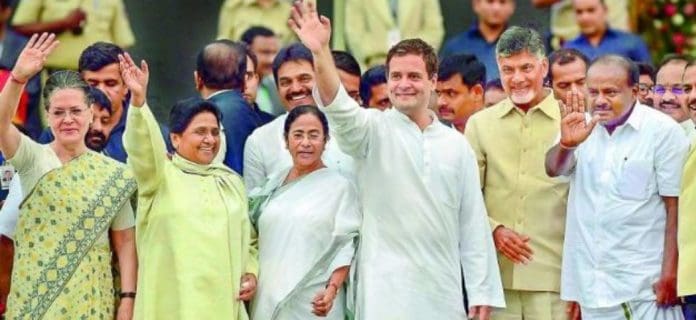 Prime Minister Narendra Modi, in one of his latest interviews, mocked the idea of any kind of grand alliance of opposition parties that may be happening to confront him in the 2019 Lok Sabha election. He called it a political romp. According to him, such stunts have failed in 1979, 1990, and in 1996 and will always fail, as such romp can never succeed, as a decisive and unwavering government is what the mass wants.
What are the real challenges?
Let us look at the real challenges that the so-called Grand Alliance will be facing-
Firstly, the Opposition's only common goal is to depose the BJP from power. But the problem is all our political leaders including SP's Akhilesh Yadav, Rahul Gandhi, BSP's Mayawati, Mamata Banerjee of Trinamool Congress and many others have the issue of their grand egos which will definitely bring down the embryonic Grand Alliance.
Secondly, the opposition power may completely extinguish if Prime Minister Modi gets another run for 5 years. Political significance might be also lost within these 5 years.
Nitish Kumar pulled Janata Dal (United) from the Grand Alliance as soon as he resigned from the chief minister's position. Later he again vowed as the chief minister, teaming up with Bharatiya Janata Party (BJP). With this, the Opposition's chances to run for the 2019 Lok Sabha elections have been nearly erased. A real chance to stop this Modi blizzard is lost with Nitish Kumar backing off from the Grand Alliance.
The Opposition is missing – a beguiling leader, devoted team, inexhaustible resources, exceptional communication skills, everything which BJP has. The outreach of Congress, Dravida Munnetra Kazhagam, Telugu Desam Party and Telangana Rashtra Samithi is limited to their specific states. The Congress, being a national party also, lacks the core strength and party funds.
Do they stand a chance?
BJP being the largest party is all set to take the upper hand. But the survey suggests that NDA may grab 37% votes, a decline from 2014's election of 38.5%. On the other hand, 31% votes may lean towards UPA, (a rise from 23%), with 32% belonging to the others. This calculation may seem to be fruitful, but it's the Karnataka election which proved that it can really turn the tables around and transform these calculative statistics into reality.
The alliance of JD(s) and Congress is a big step and if it can last till the 2019 elections, then the BJP would dwindle greatly.
BJP having started communalism in Bengal, the Congress and the Left Font forming an edgy alliance may check the growth of BJP in there.
Yogi Adityanath was awestruck when the BSP and SP in Gorakhpur and Phulpur came together in UP.
PDP-BJP losing its reliability, the NC-Congress is sure to take on Jammu and Kashmir. Congress having the upper hand in Punjab, the AAP and BJP- Akalis are continuously trying to engulf Captain Amarinder Singh.
Rajasthan, Chattisgarh, Haryana, M.P., Uttarakhand may put the BJP and Congress into direct fights. Rajasthan and M.P. may lean towards Congress but Gujarat and Chattisgarh definitely need to be worked on.
BJP is only holding Karnataka in the south. Now BJP having no support of TDP is not much of a player in the south. Congress and KC Rao being in the bitter conflict in Telangana, the latter seems to be looking forward to work with Deve Gowda, Mamta or other partners, but in no way with BJP.
The numbers are falling in central and north India, and the BJP knows it.

 

That is why the Northeast and East Bengal, Assam, Odisha, are its target.
Identifying the Ideal Candidate
In the event that the Opposition alliance starts on the double the way toward distinguishing a presidential competitor, the BJP will have a spot of trouble and for the resistance, a timid at the stumps will be justified regardless of the exertion. 
It is for the Opposition group to choose whether they decide on a 'political' applicant or distinguish somebody not subsidiary to any political gathering, more in the shape of APJ Abdul Kalam. He ought to be somebody not seen as either master NDA or age restriction, however, a man whose expert and nationalistic qualifications can't be addressed, making it intense for fence-sitting gatherings to contradict such an applicant. 
In the event that the BJP isn't sure about its numbers, it will, in the long run, consider settling on the way picked by Atal Bihari Vajpayee, when he named Dr. Kalam as his hopeful and anchored bolster from the Congress party. 
"Grand Alliance" will Against BJPism Work?

 
In Bihar as well, the collusion between Janata Dal (U) and Rashtriya Janata Dal has prompted a greater number of questions than confirmations. Voters dismissed the fabulous union against Indira Gandhi including Congress (O), Lok Dal, Jan Sangh and the communists in 1971. 
On the off chance that enemy of Congressism did not work before, by what method can hostility to BJPism work now, voters are certain to inquire. 
The Indian nation has been set apart by a few divisions, particularly since 2014, when the nation is progressively being described along a solitary pivot – Hindutva versus its adversaries. In a bipolar challenge, simple numerical conditions in view of including vote shares – SP in addition to BSP in addition to Congress in the simply finished up survey in UP (50.2 percent) is more than BJP in addition to partners (41.4 percent) – won't work. 
Despite what might be expected, an amazing partnership between prevailing sub-stations from the Planned Positions and OBCs (Yadavs and Jatavs) might be counter-profitable and even empower more noteworthy solidification of the BJP's new social base. It is for Opposition to choose whether they have to cooperate on particular issues prior to making any kind of unification. Improvements on this front will clearly impact future governmental issues.
Must Read: What will happen to Indian Economy if Narendra Modi loses 2019 Elections?