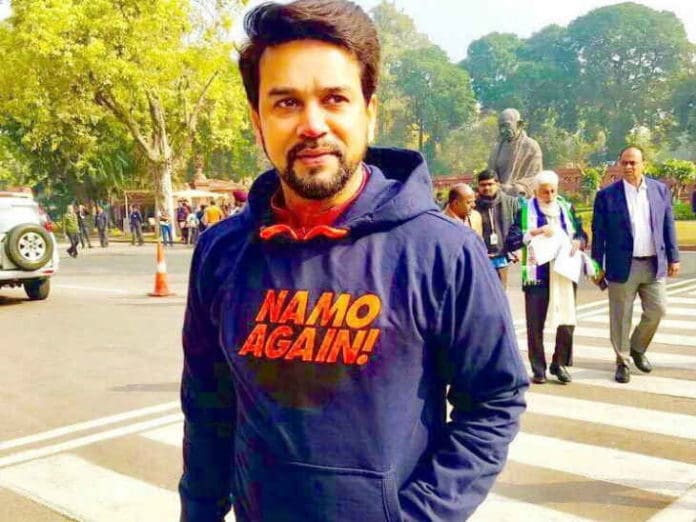 'NAMO AGAIN' could very well become the torchbearer of the election campaign for the BJP in the months to follow. It was BJP MP Anurag Thakur who started this social media wave as he entered the Parliament donned in a hoodie with a 'NAMO AGAIN' slogan splashed on it. The hoodie colored in charcoal-grey with the eye-catching slogan in bold yellow made for an interesting combination and sparked a hoodie trend on twitter.
A lot of appreciation came Anurag Thakur's way with a retweet from the Big Boss himself. PM Narendra Modi shared Anurag Thakur's pic with the attire alongside his statement 'Looking good' on the micro-blogging site. Yes, Anurag Thakur's day was done when he came with such an interesting promotional slogan on his attire on Tuesday. It was a perfect way to kick-start the election campaign which is bound to gather big heat in the days to come.
In order to not be left behind, several BJP leaders went their way in showing their support through their costume. With their leader giving his thumbs up to it there was no better way than following Anurag's footsteps and attiring in similar hoodies to reinforce their unity.
It was Thawar Chand Gehlot, the Minister of Social Justice and Empowerment who followed suit by posting his pic with the trending winter-wear alongside his caption which stated that he had donned the attire and asking the rest to do the same. He reiterated to his fellow men to do it and pledge to bring back their favorite leader to power once again in 2019. Several ministers such as Union Ministers Narendra Singh Tomar, Rajyavardhan Singh Rathore, Arjun Ram Meghwal and Radha Mohan Singh, party general secretary Kailash Vijayvargiya, earlier Chief Minister of Madhya Pradesh Shivraj Chouhan and Rakesh Singh, the Madhya Pradesh party president were hashtagged.
A further tweet on the part of Anurag Thakur pitched the remaining party leaders and followers to emulate him. This time around, hashtagged were all including Chief Minister of Uttar Pradesh, Yogi Adityanath and Kiren Rijiju, a Union Minister. A flurry of activity followed among the party people and a host of pics of party followers appeared on Twitter with many of them donning the sweatshirt with the print 'NAMO AGAIN' splashed on it.
This winter wear will be a piece of attire that will be included in NaMo merchandise section that has been incorporated under the NaMo App. Interested people can buy items carrying the name of PM Modi under this section. The NaMo App was formed to disseminate updates and current information on the Prime Minister like his personalized birthday wishes or his 'Mann Ki Baat' program recordings. The App is all set to promote Prime Minister Modi in the forthcoming Lok Sabha polls due this year.
The NaMo Merchandise too tried to get the most out of this trending topic through its unique tweet.
PM Modi became popular as 'NaMo' in the buildup to the earlier Lok Sabha elections which took place in 2014 and brought the BJP-led NDA to power. Modi is now seeking for a second term in 2019 against the backdrop of a reviving Congress