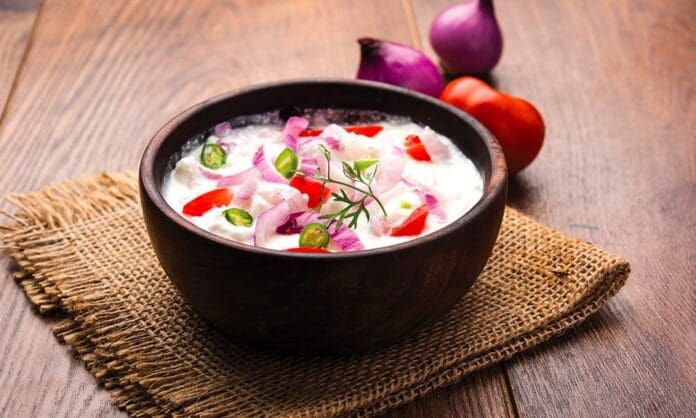 Curd is an essential food for everyone, it has many benefits to your skin and body. Curd is a great source of calcium, vitamin B-12, vitamin B-2, magnesium, and potassium.
Curd has many benefits to your body and health that are easy to digest. And, it is a widely served item in India with any type of food due to its delicious taste. But while eating, we always forget to check which food should be served with curd because it also has some disadvantages of eating with the wrong food. Here are 5 foods that you should avoid taking with curd.
1. Onion
Onion is something that everyone should like to eat as a salad and onion raita is also liked by many people, but the combination of onion and curd can cause many health problems, such as skin allergies, rashes, eczema, psoriasis, and many other issues.
It is caused by a combination of hot and cold nature, the curd is cold in nature and onion produce it in the body so this hot and cold combination is not good for your health.
2. MANGO
Curd and mango together can make a great dessert but it is also harmful to your skin and body. Mango and yogurt cause heat and cold in the body which can create many health-related issues like skin issues, toxins in the body, skin allergies, and more.
3. Fish
Never take yogurt and fish together. We should never take two protein-rich sources. You can eat vegetarian food together with a non-vegetarian source of protein but never eat a vegetarian source with a vegetarian source of protein and a non-vegetarian source with no other non-vegetarian source. Yogurt is also taken from animal milk and fish is also a non-vegetarian protein source. Fish and yogurt together can cause indigestion and other stomach related problems.
4. MILK
Yogurt and milk are two animal protein sources that should not be eaten together. Taking milk and yogurt together can cause diarrhea, acidity, gas, and other stomach problems.
5. Urad Dal
Urad Dal and curd together can irritate your digestive system in the long run. It can also cause acidity, gas, bloating, diarrhea, and other stomach problems.
6.  Oily food
Eating curd and oily food is also not good for your body. The combination of these two can slow down your digestive system. Try to avoid taking these two foods together.
The conclusion
Always try to eat a healthy combination of food together otherwise it will harm your body and health.
Related: The World's Most Nutritious Food! According to Science